26. Hervis MOUNTAIN ATTACK
19. JAN 2024
Saalbacher Bergbahnen - Mag. Isabella Dschulnigg-Geissler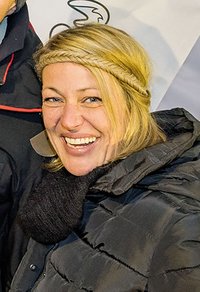 Interview with mountain railroad managing director Mag. Isabella Dschulnigg-Geissler -
by Maximilian Kurz MSc
SAALBACHER BERGBAHNEN PARTNER OF THE 1ST HOUR -
Standing for professionalism and safety

Isabella, you have known the Hervis Mountain Attack for what feels like an eternity, and as the hotel owner of the Saalbacher Hof and, of course, as a native of Saalbach, you are involved with this event or directly affected by it - the start is right on your doorstep. How have you perceived the development over the years?
While ski mountaineering was still a marginal sport in the early days of Mountain Attack, it has developed into a real popular sport over the years. The trend is unbroken. The event is one of the biggest events in this sport in Europe and we are very proud to host it in Saalbach-Hinterglemm for so many years. Especially the start is really something special and it amazes me every year how fast the first top athletes conquer the Schattberg.
Saalbacher Bergbahnen has been a partner from the very beginning and has been involved in the annual preparations since the beginning. Your team has always supported the Hervis Mountain Attack with full power. For years, employees of the mountain railroads have also been taking part as participants - so is the Mountain Attack spirit firmly anchored in your company?
Exercise and sport on our beautiful mountains is, of course, indispensable for us as "lift people". In addition to skiing or snowboarding, ski mountaineering has become an endurance sport that many people pursue with enthusiasm. In the past, it was common to climb a mountain in order to ski the best powder slopes. According to the motto "earn your turn". At that time, I did not think that I myself will one day go up the mountain. At least not with the goal of finding the best line for the descent, but really for the sake of moving. Of course, it's always something special when a colleague from the cable car team is there. Some of them have already been able to take advantage of the home advantage and even compete at the top.
What does the race week or the race day look like for you as a mountain railroad operation? What is the effort behind it and what is different on the event day than on a normal ski day?
Since the start takes place shortly before the end of the current ski operation, there is virtually no overlap. On this day our caterpillar drivers can only start working at midnight, so this night is a longer one for them than usual. In the last years we always provided the snow for the finish in the village, which was a big additional effort.
Due to the routing from the Bernkogel through the new ski tunnel, the athletes can now drive directly to the finish at the Schattberg parking lot since 2022. We also provide the lighting for the route and the marshals for the piste rescue. Furthermore, for years we have offered the possibility for accompanying persons to drive up to the Schattberg free of charge after the regular skiing time in order to be able to cheer on their athletes after the steepest and most strenuous climb at the middle station and at the summit, which is always very well received.
The Corona pandemic was a tough time and hit us all hard. How much do such events and major events, which have an international standing and media presence, help you as a tourist region?
Saalbach-Hinterglemm and big events belong together like snow and skiing. We already held big events before Corona and we are not going to miss the chance to hold them again to the usual extent in the time after Corona. The "Home of Lässig" stands for a certain spirit. We want to bring people together and see them celebrate life.
Whether it's at one of our season kick-off events at the music festivals, or on the sporting side like at Mountain Attack, ski world cups or our numerous bike events we host in the summer.
Ski touring on the slopes is becoming more and more popular, the boom in this sport is unbroken. How do you as Saalbacher Bergbahnen deal with this topic? What trends are there from your point of view and what opportunities and synergies arise?
Some regions are a bit stricter than we are in the Glemmtal. In the case of our colleagues, there are often only individual mountains that can be accessed by ski tourers, and often for a fee. We have not yet restricted anything here. With us all mountains are still passable. I have often experienced in the hotel that guests quickly go up a round on the mountain in the morning to work out and then switch to alpine skiing to enjoy another beautiful day of skiing with the family. So here everyone can explore the beautiful mountains, and pursue the sport that she likes. With a considerate togetherness is possible here in the Glemmtal and everyone can enjoy the mountains and the beautiful surroundings to the fullest!
PETZL - Armin Zwinz, Sales Manager Austria
NEW Technology & best Performance

With the new NAO® RL, Petzl has taken a major technological step forward. What are the special features of the NAO® RL compared to its predecessor and for which target group is this new high-tech product suitable?
The new rechargeable headlamp NAO® RL has a luminosity of 1500 lumens, with a weight of only 145 grams, making it more powerful and lighter than its predecessor. The lamp head is similar to the Petzl running headlamp IKO CORE, which is very flat and very light when moving quickly ergonomically on the head. The power source is worn on the back of the head and has red steady or flashing light that can be turned on and off via a separate switch and ensures that the user can be seen from a distance in the dark. Thanks to improved REACTIVE LIGHTNING® technology, the luminosity automatically adjusts to the brightness in the environment, manual intervention is reduced and the light duration is optimized.
Those who want to prepare for the Hervis Mountain Attack with regular running units as early as fall are often out and about in the dark. Which headlamp can be recommended here, if you want to be as light and fast as possible on the track and still do not want to do without the best possible luminosity?
Petzl offers the right headlamps for a wide range of activities. A good running lamp is characterized by low weight, a good fit and an optimal light cone. Our Petzl Bindi® with 35 grams and 200 lumens is perfect for night training sessions in the valley or as a backup lamp for long tours. The IKO CORE makes use of a new development in headgear. The AIRFIT® headband is water-repellent and does not absorb sweat or rain. The narrow design reduces the contact area and improves air circulation during high-movement activities. Lightweight 79 grams and 500 lumens, the headlamp is suitable for running sessions on trails and paths.
The combination of helmet and headlamp is particularly important. Often headlamps are fixed to the helmets by means of adhesive tape. What solution does Petzl offer here to ensure optimal compatibility?
Petzl offers several mounts and solutions for attaching headlamps to helmets and bicycle handlebars. Depending on the model and type of helmet, there are adapters for gluing on, plugging on or mounting systems using a strap system for the various headlamps and batteries. For ski touring, whether hobby or competition, the ski touring certified METEOR & METEORA helmets for men and women are suitable. The helmets are lightweight, well ventilated and have an elastic band at the back of the head for attaching the headlamp.
The issues of climate change, carbon footprint and sustainability are important topics in today's world. What measures is Petzl taking in these areas?
More than ever, we are aware that our actions and products have a lasting impact on our environment and have a decisive influence on our future and that of our children. We are committed to sustainably reducing the impact of our actions through our inventions and innovations. We are implementing projects to improve our economic, environmental, and social practices at Petzl in order to reduce our carbon footprint (e.g.: sustainable packaging, shorter transport distances, reduction of plastic components, etc.). We also try to reduce, reuse and recycle our waste in a measured way. But above all, we try to design our products to be as high quality as possible to guarantee a long life.
Technologies are constantly evolving and being refined down to the smallest detail. What is the future trend in headlamps and helmets? What will products look like in 10 years?
Well the trend in terms of technology and material development continues to go steeply uphill. Better batteries and better power electronics will enable us to build even lighter and more powerful headlamps in the future. Here, the topics of burn time and luminosity will play essential roles. But also light cone and light color play a major role in our own research center at Petzl. It is similar in terms of helmets - new materials and designs will enable us to build helmets that are lighter, more comfortable and safer. But we don't want to reveal too much yet.
BOA - Alois Badegruber, CEO
BOA is not just a Closure-System

BOA's technology is unique and is gradually replacing classic lacing and Velcro systems in many areas. Can you briefly explain the technology in more detail? What exactly are the advantages over other closure mechanisms?
The BOA® Fit System delivers high-performance fit solutions that are perfectly tailored to the specific field of application and are used in products in a wide range of categories (winter sports, cycling, outdoor, golf, trail running, occupational safety, prosthetics and orthotics). It consists of three essential components: a finely adjustable twist closure, a lightweight yet extremely resilient rope, and low-friction rope guides.
BOA is not simply a closure system, as it offers so many more options to perfectly fit a shoe, because the integration of BOA is already taken into account during shoe development to achieve the best possible fit through configuration. Each individual configuration then allows for a millimeter-precise adjustment by turning the twist closure.
How and when did the idea to rethink and revolutionize closure mechanisms come about?
Over 20 years ago, Gary Hammerslag (USA) had the idea that snowboard boots could be laced much more easily and effectively. Gary, an avid surfer, snowboarder and true pioneering spirit moved from California to Steamboat Springs, Colorado in the mid 90's after his father and he sold their old business. They had invented an innovative catheter solution that pioneered the anglioplasty procedure. Through this work, Gary had gained his expertise in directing extremely fine cords. Gary again had a vision of how to dramatically improve something, namely the lacing of snowboard boots. So in 2001 the first snowboard boots (K2 and Vans) with BOA came on the market.
BOA pushes from year to year in more and more products in the market. In cycling, it has been impossible to imagine life without it for years. Now more and more running and mountain boots are added. In addition, touring skiing is also being diligently added to. Where is the development heading in the next few years, especially in winter sports?
Our roots lie in winter sports, more specifically in snowboarding. Every further development has been derived from this. The very most important thing for us is function, and so we always think first about which products we can offer improved function for the consumer.
Trail running, mountain sports and the ski touring sector are very important for us in the future. Another point is that our development work is not limited to our parts, but also very much takes into account the entire product concept and BOA can thus achieve improved function for the consumer. We then test the whole thing scientifically in our PFL (Performance Fit Laboratory), where 4 in-house doctors (PhD) of biomechanics conduct research that focuses exclusively on functionality and drives further developments.
We know that companies don't like to talk about prototypes and innovation while products are still in development. Due to the close cooperation between BOA and La Sportiva, which has intensified in recent years, many competition ski mountaineers are nevertheless asking themselves whether a full carbon racing boot with BOA closure system is planned for the future. What can you tell us about that?
You don't talk about unlaid eggs and I'm not allowed to say anything specific about that. For ski touring boots, we have significantly revised our system for the near future and improved it again. Many years ago, we were somewhat pushed into this area and have not been able to focus on it as we claim to. We have changed this in the last two years and have developed new BOA products, which are now being presented to our partners and will be launched in the next few years.
In this new range there are also very good solutions for full carbon shoes. The problem is that carbon can only be deformed to a limited extent - if at all - so it doesn't really make sense to close the shell, but much more to keep the foot in the shoe to get an improved fit. In any case, there will certainly be new and groundbreaking innovations in the near future.
Currently, there are touring ski boots with the BOA Fit System from Scarpa, Fischer, Atomic and, starting this fall, La Sportiva and Salomon.
More information about our products and our Performance Fit Lab can be found at www.BoaFit.com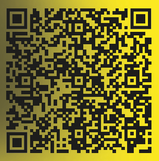 QR-CODE scan & win!

*By registering for our newsletter using the QR code above, you will automatically be entered into the draw for the La Sportiva Skorpius CR II ski touring boot. The draw will take place on January 20, 2023 at the Mountain Attack ski race and the winner will then be notified by email.
TVB Saalbach - GF Wolfgang Breitfuss
Future prospects in Saalbach-Hinterglemm

Wolfgang, the last winter season hit you hard. How would you sum up and how are you optimistic about the coming season?
Last winter was surreal. We would never have thought that a winter season could not take place at all. We don't want to have to experience something like that again, because a lot depends on it. But now we look to the future with optimism, because the summer has shown that our guests are willing to travel. I hope that many of our guests will be vaccinated by December and that no further lockdown will be necessary. We already have a lot of inquiries, also from our most important target markets. I am therefore positive that we will get the situation under control.
Now you have received the bid for the Ski World Cup 2025 and the Mountain Attack Team congratulates you warmly. How are the preparations for this major event?
The World Cup accompanies us in our daily work. At the moment, it is still a matter of setting a few rough points so that we can go into the detailed planning. We are heavily involved in the topics of the neighborhood situation, marketing, brand management and sponsoring and in some cases we have already done our first homework. The closer the date gets, or the date for the 2024 World Cup finals, the more intense it will be. At the moment, however, our focus is still on being able to go about our day-to-day business in the usual circumstances.
With the World Games of Mountainbiking and the Mountain Attack, two disciplines were combined into one rating - the "Mountain Hero" and the "Mountain Queen". How do mountain biking and ski mountaineering fit together?
These two disciplines play very well together because both endurance sports take place in the great outdoors. We have also seen that Skimo athletes train on mountain bikes in summer and vice versa. We wanted to create a combined rating from these overlaps and, as you can see from the number of participants in both events, we succeeded in doing so well.
Unfortunately, the Mountain Attack had to be canceled in 2021 due to the prevailing circumstances. But in 2022 we will start again at full speed. What do you expect from the next event?
I hope that the next Mountain Attack can go well again. Since the starting places are usually in great demand, I am hoping for a sold-out field again. I also expect a professionally organized event, like every year, only this time with additional security measures. But in this matter I have full confidence in the organizers. My wish would be that we can again welcome spectators to the track who cheer on the athletes. And of course that the weather plays along.
Ski mountaineering is finally an olympic discipline and the past winter has shown once again that the sport is booming. What's your opinion?
I think it's sensational that ski mountaineering is now Olympic. Every sport is an enrichment and simply a great opportunity for the athletes. Here in Saalbach, the sport is widespread and we have a large network of opportunities on and off the slopes. I see the development very positively and our sports shops are seeing an increasing number of visitors. Our extensive ski area definitely has enough space for ski tourers and you are very welcome.
Michael Schobersteiner - Purchase Hervis Austria
New trends on the ski touring market

Everyone is talking about ski mountaineering and outdoor sports in general. The boom is unbroken. Where is the ski mountaineering trend moving in the retail sector?
The trend will continue over the next few years. Due to Corona, many people have discovered outdoor sports for themselves. Especially when it comes to the subject of freedom, nature and getting away from everyday life, you notice how important this is to people.
The tourism associations also see this upward trend. I am sure that a lot will change when it comes to winter holidays. In my opinion, the classic après-ski holiday will no longer exist in this form. In addition, the hotels will also increasingly offer active holidays, where, among other things, the topic of ski touring will play a major role.
How did the last winter affect the touring ski market?
Very positive throughout. On the one hand, there were no restrictions in lockdown for ski tourers. If you look at last season, it was of course a real dream to practice the sport, especially for those who walked the slopes, because, as we know, most of the lifts were closed and there was a lot of space available for everyone.
A big topic with enormous potential is the children's sector. The demand for touring ski equipment and clothing is increasing. How does Hervis react to this market situation? What is the difference between skis, bindings, skins, etc. for children and equipment for adults?
This year we will be entering the market with two different touring ski sets for children. There will be a starter set for our little ones from about 5 years of age. Here we offer a normal children's ski with a ski touring adapter, i.e. an attachment for normal ski bindings with which you can go uphill. This special adapter in combination with skis and skins should be the first entry for our kids into skitouring.
For advanced children there will also be a second touring set, where a ready-made touring binding is already installed. We also believe that a great deal is still possible in this area. It is important that the children enjoy it and that they enjoy it.
How is Hervis involved in ski touring apart from sales in the Hervis stores?
In winter we offer the so-called Hervis Touring Ski Winter for our customers. In cooperation with the La Sportiva Mountain Attack Team, customers can test ski touring equipment and also receive tips and tricks for the correct use of the equipment. There is also the possibility to purchase the equipment at the end of the event at a great price.
Many participants train weeks in advance for the Mountain Attack and wind down their altitude along the route. What options are there on site to be able to prepare for the race in the best possible way in terms of materials?
Since we also have a store almost directly at the start-/finish-area, we also have an extract from our ski touring range here. Should someone ever be in Saalbach and, for example, have forgotten their skins or still need a gel or a bar, they will certainly find what they are looking for in our shop. We also offer small repairs or binding assembly on site. If you also opt for a functional shirt printed with the Hervis Mountan Attack logo when registering, you can pick it up directly from the Hervis store on race day. (>> see Must Haves)
La Sportiva - About innovations and sustainability
Our long-term sports partner in conversation

The gear changes a little bit year by year. What are the future trends of product development? What can the customers expect within the next few years?
STEFANO FRATI - Brand Product Manager: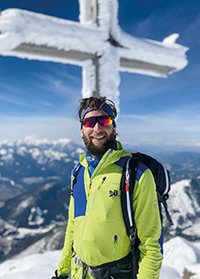 We are a mountain technical brand, for us the first thing to consider is always our gears performance. However, in the last couple of years, the pandemic has exposed the weaknesses of global social and economic systems, offering an opportunity for business to lead systemic change to create a more sustainable and inclusive future. Eco-awareness is emerging strongly across the industry and more and more conscious consumers consider sustainability as a key factor in their choices. Providing the best technical products, sustainably, is our mission and our daily commitment.
A very important topic – especially for the fast – regards the carbon ski boots. With the STRATOS V a new era of racing boots has started. It's even lighter than the predecessor model. What are the Limits of Carbon ski boots? What can still be improved? And how will a carbon ski boot will look like in 5-10 years?
MATTEO JELLICI - Footwear Project Manager: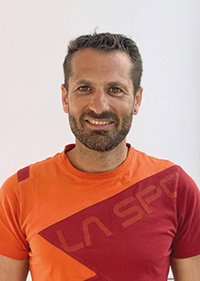 Racing boots are made of carbon for reaching the best results in terms of weight thanks to its extraordinary stiffness. On the other hand, this special material has limits of fragility (low impact resistance) and its reproducibility as each single piece is made entirely by hand.
Our research is focusing on these limits. Continuous research on the material and the production process are accompanied by continuous tests conducted by our athletes who are always involved in the development process.
Thinking about the future, we imagine products that improve durability by increasing downhill performance even more.
Finally, one eye is focused on finding alternative materials that reduce the environmental impact
After the incredible success of carbon ski boots in the racing sector, is there a possibility that carbon parts will also be suitable and used for boots of the "normal skimountaineer"?
MATTEO JELLICI - Footwear Project Manager:
We believe that developing "competition tools" is the most direct way to find new solutions that influence the entire product category.
Carbon components are already used on more "normal" products, however the fragility of the material is the aspect that most of all currently limits its use.
The other aspect to consider for products suitable for wider audience is that the manual process required to produce these components increase the product cost.
20-25 years from now, there was no real "skimo-clothing" existing on the market and skimo-racers did the races with cross-country racing suits. Can you tell us a little bit about how the clothing has changed over the years and why the quality of the clothes is also very important?
ALBERTO MARCHINI - Apparel Project Manager: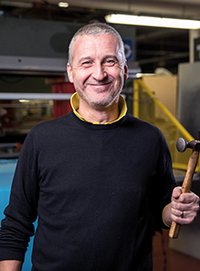 The approved layering principles from the mountaineering segment had strong influence, in the development of SKIMO clothing collections, because till today the clothing systems are developed based on these principles.
Lightweight, quick dry, highly breathable, insulating so as wind and water - resistance are the main characteristics, that the different materials need to provide.
Thanks to the technological innovation of fibers, membranes and laminates, products had been continuously improved in performance, weight, and durability. Due to currently optimized engineering methods, features, fit and form chanced a lot as well.
The macro trend of minimalism fitted perfect to the needs of ski mountaineering and allowed the creation of new optics and silhouettes.
Similar to cross country or road cycling, the fit found within this category can be described as "form - fitting". 100% freedom of movement for the athlete is the idea, every garment within the racing category have to provide.
The saying "time waits for no one" isn't more apparent than in a SKIMO racing environment, where time spent rooting around in a pack for water, snacks, or skins is unnecessary time lost. With this in mind, race tops are built with enough storage pockets to accommodate the aforementioned items. Because backpacks provide a lot of insulation against your back, race tops commonly feature mesh back panels to facilitate increased ventilation.
Race garments are also designed to integrate well with other speed-minded gear. For instance, pant bottom cut outs allow the user to quickly toggle with buckles and ski-walk mechanisms. Similarly, to keep snow at bay, stirrups loop around the underside of your boot while tops and bottoms will connect to make a seal. This last feature also has the added benefit of preventing "plumber's crack."
In any case, soustainability is the new must have to be coherent with our mission of being planet friendly to enjoy the beauty of it.
The climate change is a big deal all over the world. Which measures is La Sportiva taking to reduce the CO2 emissions?
LUCA MICH - Marketing Communication Manager: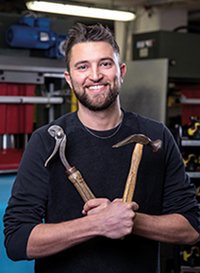 Our mantra today is resole, renew, reuse: starting from the climbing and mountaineering shoes who are products that the most demanding consumer are used to re-sole giving a second life for a better performance thanks to the upper part that is perfectly fitting on the foot and the sole that can be changed with official spare parts provided by the company to an official network of resolers, La Sportiva is today expanding this concept also to other product categories like approach shoes.
The approach to the circular economy with attention to the issue of end-of-waste is inherent in the company's DNA, so much so as to promote the re-use of its products among its users: the number of re-soles made by La Sportiva is constantly growing directly or through its own certified network of authorized resolers, which since 2012 have operated in as many as ten European markets widespread throughout the territory.
La Sportiva also recycle more than 50% of the production waste and constantly reduce the use of water in the production facilities. Furthermore, the production plant we have in the Dolomites in our headquarter in Valle di Fiemme, is not producing any CO2 emission and it use 100% renewable energy.
Jakob Herrmann - Mountain Man 2020
Jakob Herrmann
Current Mountain Man - record time 02:15:10

Jakob, you said in advance last year that a Mountain Attack win was more important than a World Cup win. Why is that?
With over 1000 starters, the Mountain Attack is one of the largest ski touring races ever on the racing calendar. In addition, it is always filled with the best athletes and for me as a citizen from Salzburg it is a "home race". In Austria everyone knows the Attack and if you win it, everyone will notice!
With your victory time of 02:15:10 you pulverized the old course record. With that a new era has begun on the marathon route.
Tell us a little bit about your tactics during the race…
This year I made a conscious attempt not to go 100% on the Schattberg (besides, I'm not the best starter and will get faster as the race progresses). I made good time from the Zwölferkogel onwards, although unfortunately mistakes happened in the
transition areas. Without that, a time even below 2:15 would have been possible!
The last winter season ended early - due to the corona virus. How does the preparation for you in summer and the start of this year's winter look like?
Yes, unfortunately ... I would have been really on the move! From February onwards, I usually only really get into shape and then get faster from week to week. On the Epic Ski Tour at the beginning of March, I was in great shape and could also hold on with best athletes, even on short races. During summer I will count on base training (hike & fly, cycling and running). In addition, I will include stabilization training to strengthen the muscles in the core and the upper body. Every now and then I will include a training competition (mountain and trail run) and from October we will be training with the team on the glacier again.
In long distance races over two hours, you are one of the absolute best ski mountaineers in the world. What is the fascination for you over long distances?
Ski mountaineering is a passion for me and the longer I can spend on my two skis, the happier I am. I just enjoy being in the mountains and I often have to force myself not to be out all day. I am simply a "long distance rider" (also energetically) and only really get going after 30-40 minutes ... my weakness is definitely short races, although I was able to compensate this weakness a bit last winter!
As the defending champion, what are your plans for the 23rd edition of the Hervis Mountain Attack?
The most important thing for me is always that I reach the finish line healthy and satisfied! But ... it would be a lie to say that I am not planning on anything! A new course record depends very much on the conditions and to win again, of course, always depends on the form of the day! But the goal is for sure to defend the title in 2021!
Alba de Silvestro (ITA) - Mountain WOMAN 2020
Alba de Silvestro (ITA)
Current Mountain-Woman - record time 02:49:31
Alba, you won the Mountain Attack for the second time in a row. What memories do you have of your victories and the fabulous time of 02:49:31 last year?
There have been two wonderful victories in the last two years. The Mountain Attack is a very special race and extremely spectacular. When I won the first time, I didn't know the route - which then had to be shortened due to the weather. As an athlete in the "Sportiva Esercito" group, I wanted to start again in 2020 to break the previous course record. I am very happy that I made it.
Due to its extreme gradients, the Schattberg is a special challenge right at the start of the race. How do you tactically go into this first climb?
It is very important to keep an eye on snow conditions. It's extremely steep, and you have to know how to best adapt to the conditions, because they affect and change everything. On my first start I walked with good skins and without a crampons. Last year I strapped my skis onto my backpack and walked up there.
The last season ended very early due to the coronavirus. How do you prepare during summer and how does the start into the winter look like?
The season ended very early, but that makes the motivation for the next winter even bigger. One of my goals are the World Championships with the Italian national team, of which I have been a member for several years and I hope to be able to achieve a top position.
You are the current defending champion! What's your goal for 2021?
I have a lot of obligations in winter, which is why I cannot guarantee my presence at the moment. But of course I hope to come back and be at the start. A record always has to be defended! :-)
Uli Schultes - MA-Urgestein
Uli Schultes
Mountain Attack participant for many years

Uli, you've been at the starting line of the Mountain Attack every year since 2003. What is the fascination for you?
Almost everything. In more elegant terms, like an orchestra playing a piece of music - it's the total work of art that inspires! What I personally appreciate about the Mountain Attack is the combination of challenge and having fun.
You live in Vienna. What options do you have to prepare for the Mountain Attack?
The closest option for a ski tour is the Schneeberg, or running in the Vienna Woods. Depending on the route selected, you will find short but very steep climbs. With my courses at USI Vienna, I also have a variety of training opportunities. We let off steam here with conditioning training, workouts and gymnastics units. As a coach, I usually take part in HIIT myself, so that means: all out!!! So you challenge the participants and they challenge you. That motivates and it's fun!
You are also a veteran of the Mountain Attack - EVERYONE knows you! Doesn't that have to be something very special?
After so many years I am known like a coloured dog. Already in the morning on the way to the start number distribution, Roland calls out from somewhere around the corner: "Hello Uli!" Then there is a warm greeting from the girls at the start number distribution and at the pasta party. Even at the checkpoints I receive a lot of compliments and cheering which is very nice.
Franz Hausmann - Mr. Tourenski
Franz Hausmann
Mr. Skimo - a pioneer of ski touring in eastern Austria

Franz, you are the "Mr. Skimo "in Eastern Austria. Which mountains are you mainly traveling on?
Even before skimo competitions were a household name in Austria, we started out from the Schneeberg. Even if we as Eastern Austrians are ridiculed, the list of mountains that we have climbed with skis is impressive. This includes many Austrian mountains between Schneeberg and Arlberg, several Swiss four-thousand-meter peaks and also Mont Blanc. I was often in South Tyrol and in Eastern Europe and we also made it to Elbrus. Since 2000, we have often come to high-alpine peaks as part of well-known ski touring competitions.
Your team and you are represented in races all over Austria and also always very numerous at the Mountain Attack. Tell us a little bit about WSV Puchberg ...
More than fifty years ago we organized the so-called "performance run" on the Schneeberg. Since the end of the 90s there have been more and more skimo competitions in Austria and I competed in many. So I saw how others do it with their competitions and the old "Rucksackl run" became the Schneeberg skimorun of the WSV Puchberg. The starting point for the skimo competition scene in Lower Austria was the Schneeberg. Many others soon followed. We take part in competitions all over Austria, but also often in team competitions in Italy, Switzerland and France.
What other anecdotes can you think of about the Mountain Attack?
My marathon time, which I have done consistently year after year, is 3h 20min. My motto for ambitious young boys was: "If you want to do it in 3h 20min, you have to go with the old Hausi!" But the young boys fluttered away with full speed at the start ... in the flat in front of the Reiterkogl I overtook them, accompanied by their puffing comment: "No! Not you again!!! "At the finish I was always 5-10 minutes before the youngsters.
Erich Ebbrecht - Egger-Charity-Team
Erich Ebbrecht
Egger Charity Team member - always happy to be there!

Erich, you have already started the Schattberg Race five times. What is it that fascinates you personally about the Mountain Attack?
I am fascinated by the interplay of professionals, amateur leagues and pure daredevils, to whom I count myself, in connection with a little craziness, a dreamlike setting and the always top-organized event. I am someone who is not particularly preoccupied with it, but simply gets involved in the unknown. I liked it so much the first time that I like to repeat it. I also take the time during the ascent, for one or two snapshots or small talk with my fellow campaigners.
The slopes on the Schattberg are steeper than any other race. How are you coping with the tough climb and what are your tactics in the race?
I keep asking myself how you can get involved in this incline, although I should already know it. I don't really have a tactic, but my body feeling tells me whether I can go straight up or rather take the variant with the serpentines. In any case, it is always a tingly feeling when you have the incline(s) behind you.
How are you preparing for the Mountain Attack 2021?
As in previous years, stay sporty (strength & endurance) and as uninjured as possible throughout the year. Mentally I am always looking forward to it and I also have the blessings of my family. My material has not changed since the first race, so I know at least one point what I'm getting myself into.
The participation of the Egger team is something very special. To what extent does this team spirit carry over into your everyday work?
After the starting shot everyone runs for themselves, but every team member on the track promotes motivation. Doing something good, having fun and pushing your limits every now and then - that applies to both leisure and work. I think this team competition has a special incentive and promotes solidarity in everyday working life. It's a great feeling to know that you are part of a bigger whole and that you outgrow yourself.