23. Hervis MOUNTAIN ATTACK
14. Jänner 2022
IMPORTANT TO KNOW

TRACK VISITS
When visiting the track before the race, please strictly observe the following:
Comply with local slope rules and opening hours
Pay attention to preparations with cable winches (especially in low season)
Ascent ONLY at the edge of the slope, ONLY in a row behind each other
Caution when crossing
Ensure safety for all slope users
Use the parking spaces of the mountain railways

EQUIPMENT-SERVICE
Who in advance of the attack in Saalbach visits the track is welcome in the Hervis Store. The employees of the branch are ready for the athletes from the first snowfall and have everything the racing athlete needs. If something breaks during training or if someone has forgotten something, just drop by, the Hervis-Team will be happy to help.
START NUMBER PICKING-UP HERVIS STORE SAALBACH
The registration of the participants as well as the pick-up of the starting numbers, race chips and starting gifts will be located in the Hervis Store in Saalbach, starting 9.00 am near the attack-arena. Attention: Last pick-up at 2.30 pm without any exception! Collection only in person and with photo ID! // Mouth-Nose-Protection!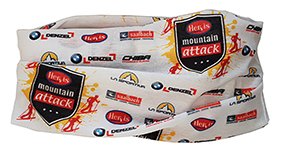 STARTING GIFT 2021
Original Chiba multifunctional bandana in Mountain Attack design, with high quality material and best wearing comfort. Washable at 30°C.
ID CARD & COVID CONTROL
For safety reasons and as a precaution, the collection of the start number is only possible in person and only on presentation of a photo ID! Furthermore, the temperature of each participant is measured and noted on the forehead without contact. >> Covid-Measures

EXPO AREA
In front of the Hervis Store you can experience the latest SkiMo products and everything related to sport. Suppliers are introduced to the Hervis Store to present their products.
TIMING
At all checkpoints - Start, Schattberg, Hinterglemm, Zwölferkogel, Hochalm, Reiterkogel, Finish – the timing will be exclusively done with chips only. Therefore the corridors must be correctly passed by all participants.
PARKING
The parking garages Schattberg and Kohlmais as well as the parking lot at the entrance to the village (opposite Billa) are exclusively available for the athletes.
For spectators and fans, the free ski bus from Schönleiten lift car park to the Schattberg and back will be extended until the end of the event due to the limited number of parking spaces in the town center.
EPIC SKI TOUR & SELLA RONDA
If you are already planning your race plan for the coming season, you should not miss Mountain Attack's partner events Epic Ski Tour (Trento, Monte Bondone, ITA) and the Sella Ronda Ski Marathon in the heart of the Dolomites (ITA).
> Epic Ski Tour: 30. 1. 2021, www.epicskitour.com
> Sella Ronda: 19. 3. 2021, www.sellaronda.it