26. Hervis MOUNTAIN ATTACK
19. JAN 2024

PREMIERE
Route
Junior-Sprint
Vertical Race
1. Mountain Attack
Junior-Sprint -
SCHATTBERG base area
Start: 1 p.m. / starting-fee: EUR 15,–.
The number of participants is limited to 32!
Route: approx. 50 m altitude (vertical ascent)
The marked route must be followed at any time.
START / FINISH - Base area-Schattberg 50 m
Race mode: 4 heat (min. 2 runs per person)
Age group: 8-14 years
Executed by: Skiclub Viehhofen, Peter Gruber
Award ceremony: 5:15 p.m. on the Attack-ARENA event stage at SchattbergXpress valley station

ANNOUNCEMENT
Age group: Children between the ages of 8 and 14 are eligible to participate (born between January 15, 2007 and January 15, 2013) - * The cut-off date is January 15, 2021 (race day)

Starting number - pick up:
Hervis Store in Saalbach, from 10:00 a.m. ("Schattberg Race + Junior Sprint" box office) Entry fee and registration: € 15, - only online! Opening on October 15th, 2020 at 10:00 a.m. The number of participants is limited to a maximum of 32 children!
Start number: Each participant receives 2 starting numbers. These must be placed visibly at stomach level and at the.
SERVICES & PROCEDURE
The entry fee includes a starting gift and a certificate for all participants, as well as trophies for the first placed
Equipment: Material suitable only for alpine touring - the skis must have steel edges and touring bindings, the shoes with solid soles; Skins of your choice, crampons as required. Skis and boots must be worn as usual for touring skis. HELMET ARE REQUIRED !!!

Award ceremony: 5:15 p.m. on the event stage in the finish area (SchattbergXpress parking lot). Everyone receives a certificate, trophies for the first placed!
Mode: The first two runners from each heat qualify for the next round. The third and fourth placed come into the lucky loser classification. Each participant therefore contests at least two heats.
Start interval: a heat starts every 5 minutes!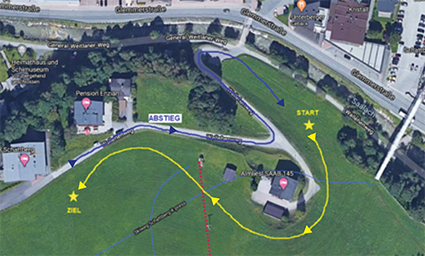 SCHATTBERG base area
Route: approx. 50 vertical meters – uphill only! After crossing the finish line, the skis must be taken off. At the start of the next heat you have to walk down the asphalt road back to the starting area - approx. 2 minutes walking time (no descent on the piste allowed! - This leads to immediate disqualification !!!!!)
Yellow route - ascent = race track
Blue route - descent (on foot)
ADDITIONAL INFORMATION:
The division into the heats (1 to 8) will be announced a few days before the race.
Of course we try to ensure an age-appropriate allocation.
We try a fast procedure and ask all participants to prepare quickly for the next heat.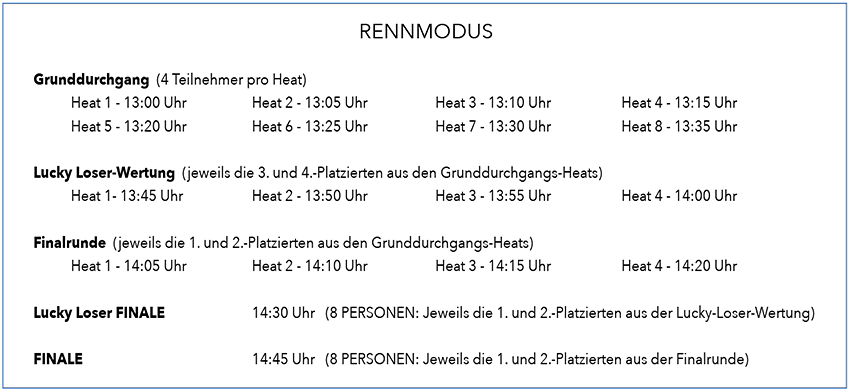 Awards ceremony:
5:15 p.m. on the Attack-ARENA SchattbergXpress valley station - event stage