25. Hervis MOUNTAIN ATTACK
20. JAN 2023
SAVE THE DATE - 20 JAN 2023

SEE YOU IN FOR THE ANNIVERSARY -
25 YEARS OF MOUNTAIN ATTACK!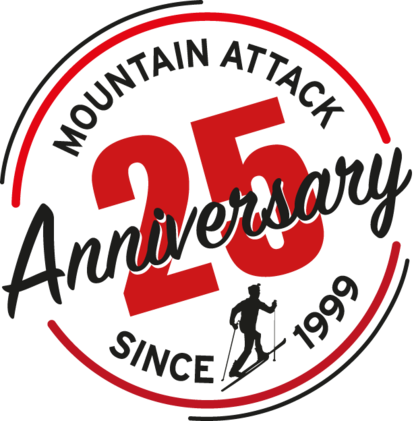 Dear Mountain Attack Friends
A virus has been keeping the world in suspense for around 18 months. In mid-December 2021, we received the shocking news from the federal government that all winter events will be banned and that there must be another "lockdown". Unfortunately, we couldn't even think of carrying out the Mountain Attack 2021, although we were already "race ready", because due to the Christmas season we have to have everything ready by mid-December. Not only an emotional, but also an enormous financial loss was the result. A postponement was impossible, as no one could say whether events would even be allowed to take place in winter 20/21. We now know: Unfortunately, there were no more events in Austria.
In spring and summer the outdoor events finally came back. In addition to major events such as European Football Championship, Formula 1 or the Olympic Games, many other local, national and international sporting events have taken place and continue to take place. And that's good!
A big thank you to all the organizer colleagues who are extremely committed here and prove time and again that a lot is possible with good concepts. It has now finally been officially recognized that infections in the open air, especially in individual sports, are almost
impossible. Such events are now part of the solution. Unfortunately, we are already seeing the numerous collateral damage - especially due to the lack of health / exercise / sport - which will certainly increase even further. Most organizers have a well thought-out prevention concept with which you can travel safely. For the participants, compliance with the rules has already become a habit, because everyone wants to participate in sports again and not just train alone. The passion in sport, the common and measuring with others must become a habit again.
Unfortunately, we are still somehow dependent on decisions by the federal governments, which give us the framework in which we can move. If we don't go along with it, we're finished economically.
From a current point of view, the 2G rule will be applied at the Mountain Attack on January 14, 2022, i.e. vaccinated / recovered or with a current PCR test (see information Covid-Measures). This is for your own safety, the safety of colleagues and employees and, above all, the region as a tourist destination. However, we all don't know how things will continue in autumn / winter. All signs (and you can already see that in some European countries) go in the direction of 1G.
How sensible this is for an individual sport in the open air, I would like to leave unjudged at this point. The fact is, however, that the 1G rule could come sooner than expected, and everyone is personally free to be at the start according to the given conditions and to ensure that this runs out in time.
For our beloved sport, June 18, 2021 was probably a little sensation. After so many years of discussion, the IOC has confirmed that ski mountaineering will be included as a further sport in the program at the 2026 Winter Olympics in Cortina / Milan. That can be seen as a further motivational boost for the youth and of course for the established stars of the international scene. I am personally very happy about this decision. It will open new doors for all of us - race organizers, athletes, coaches.
Not least because of this, we have already focused on the youngsters with the planned Junior Sprint in 2021, and are doing this again this year in close cooperation with our Salzburg State Councilor Stefan Schnöll.
Flexibility is definitely required from everyone this year. As organizers, participants and sponsors, we have to prepare ourselves for changes to be made at short notice. Thank you in advance for the understanding of everyone involved and I wish you great preparation and lots of fun at the 24th Hervis Mountain Attack in Saalbach-Hinterglemm,
yours
Roland Kurz
OK-chief
EDITORIAL - LR Stefan Schnöll
Dear friends of sport
As Salzburg's State Sports Councilor, I am particularly pleased that the Mountain Attack in Saalbach-Hinterglemm will take place for the 24th time this winter. After the corona-related cancellation last year, it is all the more important this year that major events can take place again - an important sign of life for domestic sport.
With a large international starting field, the Mountain Attack has been an important part of winter sports for years and an enormous enrichment for the sports region Salzburg. In addition to the three main competitions Marathon, Tour and the Schattberg Race, a very special event awaits our young athletes this year with the 1st Mountain Attack Junior Sprint.
In a special race mode, a total of 32 junior athletes will fight for the very first title on the Schattberg. The best possible promotion of our young athletes is particularly important to me as a sports councilor. That is why I am very pleased that our young athletes are given their own stage at this event, which we as the State of Salzburg are of course happy to support.
I would like to thank the organizer Roland Kurz and his team very, very warmly for the professional organization and handling of the Mountain Attack. I would also like to express a big thank you to the many partners, sponsors and helpers of this event, without whom such an event would not be possible. I wish all athletes every success for this year's Mountain Attack and I am already looking forward to exciting competitions!
Mag. Stefan Schnöll
Sports Council of Salzburg
Hard, harder,
Hervis Mountain Attack
Roland Kurz from the Salzburg event agency NMC launched the Mountain Attack 22 years ago. In 1999, the organisers as well as the participants were still called "weirdos" who ran up a mountain at race pace to then race it down again at high speed using extremely light material. In the meantime, ski mountaineering has firmly been established in our society and is a fixed part of the sports scene. The local sports retailers benefit from the sales generated in this area.
The boom remains unchanged, more and more people discover ski mountaineering, whether for fun, as a hobby- or as competitive mountaineering. All facets are represented, all milieus and income levels are part of this sport; and also tourism is rethinking its position as the target group is constantly growing. The Mountain Attack alone provides for just under 25,000 additional overnight stays in the Glemmtal, thus creating important economic impetus.