26. Hervis MOUNTAIN ATTACK
19. JAN 2024
SAVE THE DATE - 20 JAN 2023

SEE YOU IN FOR THE ANNIVERSARY -
25 YEARS OF MOUNTAIN ATTACK!
Bald ist es soweit - die Anmeldung zur 25. Mountain Attack - wird exakt am 15. Oktober um 10.00 Uhr geöffnet!
Das NEUE Magazin ist in Produktion und wird bald in eurem Briefkasten eintreffen! Ihr dürft Euch auf viele Neuigkeiten freuen !!!
The time has come - the registration for the 25th Mountain Attack - will open exactly on October 15th at 10am!
The NEW Magazine is in production and will be in your mailbox soon! You can look forward to lots of news!!!
È giunta l'ora - le iscrizioni al 25° Mountain Attack - apriranno esattamente il 15 ottobre alle ore 10! Il NUOVO Magazine è in produzione e sarà presto nella tua casella di posta! Ti aspettano tante novità!!!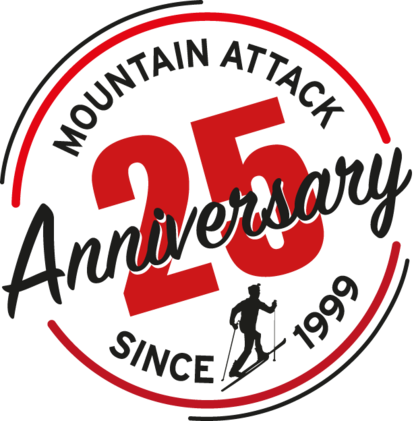 Dear Mountain Attack Friends
It has been 25 years since a crazy idea was born. The passion for skimountaineering, a vision to establish something new and the love for organizing sports events has constantly driven my team and me. Our idea became an international brand in the skimo scene - a cult event - the Mountain Attack!
I would like to take this opportunity to thank my closest colleagues, my event team, our long-standing sponsors, the professional partners, all participants of the last 24 years and especially the people of Saalbach, who have walked this special path together with us, have always trusted us and are therefore a big part of this success!
There are only 4 months left until the start. My anticipation is already enormous. I can't wait to get back to "normal" planning and working after two chaotic and nerve-wracking years. We had to postpone the 2022 Attack from January to March. Admittedly a very attractive date, which gave us pure sun and breathtaking pictures, but nevertheless we stick to the traditional date in January. We want to remain the first big skimo race of the season worldwide. Today I would also like to thank all participants of the last Attack for their loyalty and congratulate them on their success. Christian Hoffmann was the only male athlete to achieve 4 victories at the Marathon. He defied the attacks of the "young guns" and thus crowned himself the record Mountain Man.
The Junior Sprint in the afternoon and the classification of the Salzburg Regional Championships, as part of the Attack, will of course remain fixed in the program in 2023. The new finish directly in the Attack Arena is a real benefit for athletes, spectators and media. The important area of registration, insight into the starter list, live timing and also live tracking during the race, split times and finish times has been completely revised and gives us all new perspectives and possibilities. You can find more informations > here.
On 20 January 2023, after a two-year break, we can finally offer the Attack Tombola again with over 300 non-cash prizes (every 2nd ticket wins) from our partners and equipment suppliers. Speaking of winning: With our new partner BOA you can get a La Sportiva touring ski boot, scan QR code and participate. In the old tradition, we will also make the Participants Lounge with Pasta Party again a popular meeting place for everyone and celebrate the Attack Clubbing following the emotional award ceremony in the Castello.
Finally, it will be a bit emotional for me again. My closest co-workers: Rosi, Kerstin and Max completely surprised me with a 25th anniversary book (german). I only found out about it when we were about to go to press with the magazine and I read the info on page 4 (magazin). They have been working on the content for months and together - with many companions, long-time participants and winners of the last 25 years - they have created a chronicle. And, everyone involved has kept quiet for such a long time, not giving anything away, not sending an e-mail to me by mistake ... simply unbelievable! In the book you will find facts and figures about 25 years of Mountain Attack, funny and unforgettable stories of many participants, reports about race preparations, successes and misfortunes and, of course, numerous photos. I can only express my sincere thanks to all the contributors. And the good thing is: You can also buy the book at the production price. Information on ordering can be found in the magazine and on our homepage. It pays off in any case, I have already read several times amused in it, there are unbelievable stories.
I am looking forward to seeing the whole "Attack Family" again on January 20th, I wish you all a beautiful autumn, good preparation, fast legs for the 25th Hervis Mountain Attack and I am looking forward to seeing you again at a great anniversary edition!
Sincerely
Yours
Roland Kurz
OK-chief
EDITORIAL - LR Stefan Schnöll
Dear friends of sport
As Salzburg's State Sports Councilor, I am particularly pleased that the Mountain Attack in Saalbach-Hinterglemm will take place for the 24th time this winter. After the corona-related cancellation last year, it is all the more important this year that major events can take place again - an important sign of life for domestic sport.
With a large international starting field, the Mountain Attack has been an important part of winter sports for years and an enormous enrichment for the sports region Salzburg. In addition to the three main competitions Marathon, Tour and the Schattberg Race, a very special event awaits our young athletes this year with the 1st Mountain Attack Junior Sprint.
In a special race mode, a total of 32 junior athletes will fight for the very first title on the Schattberg. The best possible promotion of our young athletes is particularly important to me as a sports councilor. That is why I am very pleased that our young athletes are given their own stage at this event, which we as the State of Salzburg are of course happy to support.
I would like to thank the organizer Roland Kurz and his team very, very warmly for the professional organization and handling of the Mountain Attack. I would also like to express a big thank you to the many partners, sponsors and helpers of this event, without whom such an event would not be possible. I wish all athletes every success for this year's Mountain Attack and I am already looking forward to exciting competitions!
Mag. Stefan Schnöll
Sports Council of Salzburg
Hard, harder,
Hervis Mountain Attack
Roland Kurz from the Salzburg event agency NMC launched the Mountain Attack 22 years ago. In 1999, the organisers as well as the participants were still called "weirdos" who ran up a mountain at race pace to then race it down again at high speed using extremely light material. In the meantime, ski mountaineering has firmly been established in our society and is a fixed part of the sports scene. The local sports retailers benefit from the sales generated in this area.
The boom remains unchanged, more and more people discover ski mountaineering, whether for fun, as a hobby- or as competitive mountaineering. All facets are represented, all milieus and income levels are part of this sport; and also tourism is rethinking its position as the target group is constantly growing. The Mountain Attack alone provides for just under 25,000 additional overnight stays in the Glemmtal, thus creating important economic impetus.