26. Hervis MOUNTAIN ATTACK
19. JAN 2024
Ein BUCH - für alle Mountain Attack Fans !
zum 25 Jahr-Jubiläum
Chronik - Storys - Kommentare
Anlässlich des Jubiläums "25 Jahre Mountain Attack" haben wir zahlreiche Bilder, Infos, Geschichten und Anekdoten für alle Mountain Attack-Fans zusammengetragen und pünktlich zum 25-Jahr-Jubiläum in Buchform gebunden.
Die Idee dazu kam aus dem engsten Mitarbeiterkreis und wurde, fast bis zur Fertigstellung, komplett geheim gehalten – selbst vor dem Organisator Roland Kurz haben alle Dicht gehalten und er wusste von Nichts! Umso größer die Überraschung und natürlich die Freude über dieses Werk, das die Geschichte einer ganz besonderen Leidenschaft für den Tourenskisport und von einer anfangs total verrückten Idee und ihrer Entwicklung bis heute erzählt...
Wir haben dazu ehemalige Top-Stars, Wegbegleiter, Teilnehmer, Rookies, Sieger und Freunde der Mountain Attack nach ihren ganz persönlichen Erlebnissen und Erinnerungen gefragt.
Die Resonanz war überwältigend – viele Erinnerungen und Hintergrundinfos über Training und Vorbereitung, persönliche Höhen & Tiefen, nahezu dramatische Szenen am Schattberg, über unbändige Freude und Emotionen die mit der Zielankunft oder sogar einem hart erkämpften Stockerlplatz einhergehen. Ein Blick hinter die Kulissen von 25 Jahren Event-Geschichte und viele tolle Erinnerungen der großen Attack-Family.
Nicht im Buchhandel erhältlich -
Limitierte Stückzahl!
Erstausgabe deutsch, 124 Seiten
(bei Versand zzgl. EUR 5,-)
Verfügbar ab Dezember!
Deine Bestellung
Buch 25,- EUR

Du möchtest für Dich oder einen anderen Mountain Attack-Fan ein Exemplar dieser limitierten ERST-AUFLAGE sichern? Dann schicke uns bitte Deine Bestellung direkt an das Attack-Büro, die Zahlungs- und Lieferinfos folgen umgehend per Mail.
Das Buch ist auch bei der Mountain Attack in Saalbach vor Ort und in ausgewählten Hervis-Stores erhältlich.
(Solange der Vorrat reicht!)
Race 3 - CombiNED EVALUATION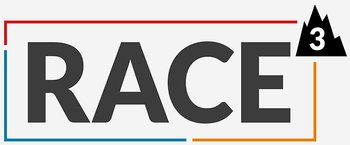 Another NEW PRODUCT for very ambitious racers is the "RACE3" combination rating: Together with the two partner events EPIC Ski TOUR and the Sella Ronda, there will be a collaboration from 2021 under the name RACE3. The times of the 3 races are added together in an overall ranking:
Mountain Attack: Time TOUR distance
Epic Ski Tour: Time EPIC Race (the first section is counted - to Palon)
Sella Ronda: time marathon
The first, second and third place will be awarded. Women and men each get the same fantastic "RACE3" material prizes. So it is worthwhile to take part in all three races !!!
Ergebnisse - Race3-Wertung 2022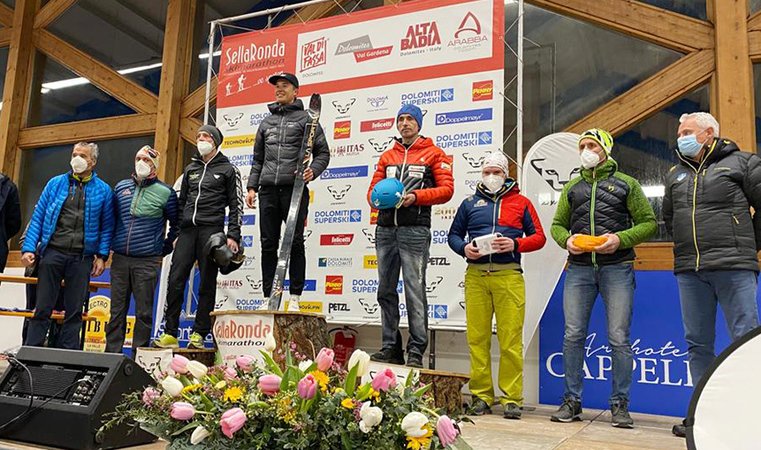 Im Bild v. l. Oswald Santin (Sella Ronda), Roland Kurz (Mountain Attack) - am Podest: 2. Simon Stock, 1. Lukas Rauch, 3. Ulrich Gross, rechts daneben - Bernhard Reich, Loris Tomat und Kurt Anrather (EPIC)
Wir gratulieren den Gewinnern!

Die Damenwertung ist leider aufgehoben, da die angemeldeten Athletinnen bereits bei der Mountain Attack ausgefallen sind und somit nicht mehr in der Race3-Wertung sind.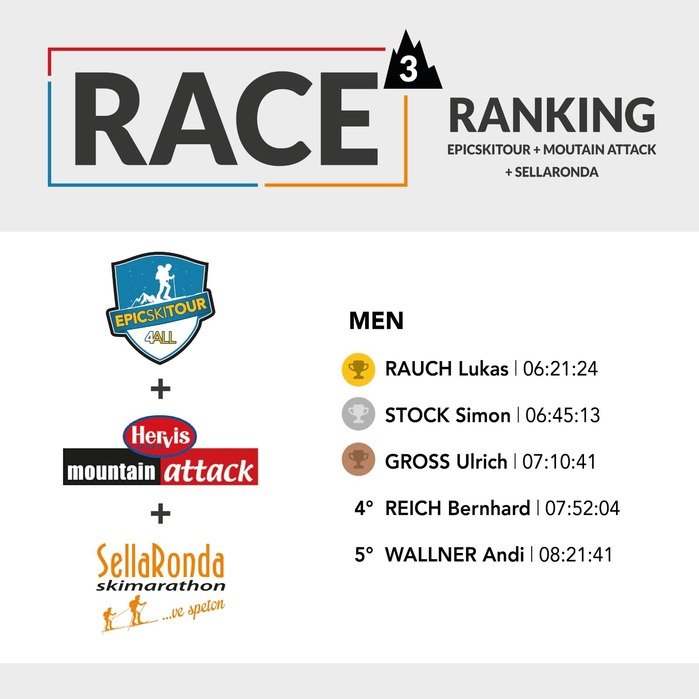 Interviews
We asked some MA participants for an interview in order to give all fans, rookies and interested parties an insight into the fascination of ski-touring. Hobby athletes, semi-professionals and top international athletes reveal their very personal motives, impressions and experiences and tell us why the Mountain Attack is something very special and has rightly earned its place in the scene ...
Egger Charity
A charity project with team spirit and full commitment
As the organizer of the Hervis Mountain Attack, we are particularly proud of the Egger company's social project. For 10 years now, 100 company employees have participated in the Schattberg Race. The employees travel to Saalbach from 10 nations and 17 international plants and face the challenge, with the focus on doing sports together and the social commitment associated with it. Thomas Leissing (Group Leader Finances and Administration) donates 50 euros from his private pocket for every summit victory.
In the end, an impressive 5,000 euros are raised, which are given to charitable organizations such as the SOS Children's Village, the Red Cross, or families in need in the area. "Unfortunately, the Mountain Attack 2021 had to be canceled, but we are already looking forward to the next edition and will be at the start with double motivation," said Leissing enthusiastically.
Photo: Initiator Thomas Leissing handing the check over to Manuela Mader (SOS Children's Village) and the highly motivated Egger team!